We offer the most suitable solutions for your project with our free discovery service for your M-Bus Converter needs.
Free Pre-Discovery Best Price Guarantee!
ConverTech M-Bus Converter
What is M-Bus Converter?
M-Bus Converter; It is the unit that measures the consumption values and provides the reading of the calorimeter and meters with M-bus interface from a single center in places with central heating, central hot water usage and central cold water usage.
The word converter comes from the word convert in English and means to convert in Turkish. The converters collect the digital data we receive from the meters and remote reading systems it enables us to get the data by translating it into the programming language it can read.
All meters suitable for M-Bus in the project By installing M-Bus system can be read centrally, improves the quality of life of users and allows you to more flexibly observe the energy balance of the building.
---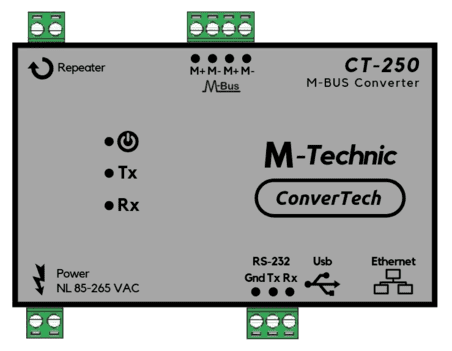 ---
CT-250 Series M-Bus Converter Models
CT-250M Master Converter USB - RS 232
CT-250MR Master Repeater Converter USB - RS 232
CT-250M-E Master Converter USB - Ethernet
CT-250Modbus Master Converter USB - Ethernet
---
CT-250 Series M-Bus Converter Features
Repetear feature allows multiple converters to be read from a single point
Has Ethernet, USB, RS232 outputs
It has a metal case and it is not affected by impact and heat.
Short circuit and overcurrent protection
Prevents damage to the device by closing the line output in case of a short circuit
Eliminates panel usage thanks to direct wall mounting
It is produced in accordance with TS EN 1434 and TS EN 13757-2 standards.
Supports all M-Bus (EN-1434) compatible meters
32 Bit ARM Processor
It is not affected by electrical noises with active software filtering
Can be used with all M-Bus meter reading software with USB 2.0 VCP interface
Self-diagnosis and warning feature
85-265V AC wide supply voltage range
36V constant M-BUS output voltage
500 mA max. output current
Max. Supports 250 meters
Provides practical use with wall mounted adapter
There are 2 parallel M-Bus outputs for easy assembly
---
---
ConverTech® M-Bus Converter Catalog