As M-Technic; we offer free discovery service for your HIU maintenance, service and spare parts needs (just for Istanbul) we offer the most suitable solutions.
Heat Interface Unit Annual Periodic Maintenance and Service Agreement
With the heat station periodic maintenance agreement made specifically for your project, according to the agreement made, any time of the day or during working hours, if any problems occur in the heat stations or to prevent any problems, intervening in the heat stations, eliminating the problems, taking the necessary measures and service covers its services.
When there is a problem in the units of the heat station, calorimeter, water meter, etc. in your project, all the sites and apartments that need urgent solution can get a service for a heat station maintenance agreement.
Heat Station Annual Periodic Maintenance Agreement During the year, unlimited service support, periodic preventive maintenance of the heat station once a year, replacement equipment in cases where the faulty device cannot be repaired at the customer site, warranty services, original spare parts support are provided from our standard services and special personnel and additional service supports are provided where necessary.
Heat Station Service
It is a service to detect and repair a fault for your heat station and heat station installation in your project. Your heat station device, which you have from this service framework, is examined by an authorized expert team. If the heat station needs to be intervened as a result of the examination, the parts that are interrupted or replaced by your heat station 6 months warranty parts are preferred. M-Technic heat station service service we provide as expert team to all heat station brands and models We offer.
In Which Cases Should You Call the Heat Station Service?
The heat station failures you are experiencing may be different. The important thing is to be sensitive to these heat station failures and you need to monitor your heat station performance. You may encounter many different types of heat station failures. In case of continuous heat dissipation of your heat station, low efficiency heat station performance or malfunctions such as in-house heating and not getting hot water M-Technic you should get support from technical service teams.
What is Heat Station Maintenance and Service Fee?
Heat station maintenance and service fee The expert team that performs the fault detection for you will offer you a price. Price offered will vary depending on the extent of your fault. Sometimes replacement of parts may be required with some fault detection. In this case, this price is included in the service fee. The important point is that before the service is started, the content and price of the heat station service is offered to the family who will receive this service. M-Technic after performing the heat station fault detection we offer you our service fee.
What is our Difference in Heat Station Maintenance and Service?
M-Technic We provide service as a special service to all brand and model heat stations. All the spare parts we use in the heat station service are original. The workmanship of the service we provide and the spare parts we use are guaranteed for 6 months. M-Technic as a team of experts in the field of heat station service Marmara Region we are happy to serve all provinces and districts.
---
Heat Station Spare Parts
DAF Energy Hydraulic Proportional Controller - PM Regulator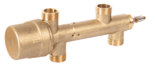 PM Regulator; As soon as there is use in any flow in the network line, it directs the heating line proportionally according to the flow rate to the heat exchanger.
It acts as a kind of balancing valve by controlling the pressure in the heating line. As soon as the hot water usage ends, the flow from the central heating boiler room to the heat exchanger is interrupted and calcification in the heat exchanger is prevented.
PM Regulator Exchange and Service Operations
All brands Your regulators at the hydraulically controlled stations are replaced by 0 newly produced products on site by our expert service team.
Upon request as spare parts, 0 new products can be sent to your address.
Your existing faulty regulators can be purchased and their interior sets can be renewed by replacing the new generation of moving parts and sealing products.
Brands with Pm Regulator service;
DAF Energy - Delta - Oventrop - RBM
DAF Energy TF-42 Thermostatic Control Valve TRV
Thermostatic controller valve is a temperature control device that works without power supply and active control.
It controls the hot water to the apartment. The temperature of water is critical for accurate working of HIU.
Proportional controlled valves have the feature of expanding or opening the valve stem by expanding according to the set temperature.
DAF Energy TRV - Zone Insert Thermostatic Valve Core
EPDM sealed heat station TRV insert thermostatic valve inner core.
EPDM sealed heat station Zone insert zone inner core of valve.
On the heat station Inner core of Thermostatic Valve and Zone Valve is exist. If it does not work regularly, your heat consumption expense increases and it is recommended that it will be checked regularly and replaced if necessary.
DAF Energy EYS Differential Pressure Control Valve - Balancing Valve
The duty of the differential pressure control valve is to keep the pressure difference constant on the line where it is installed. Maximum flow rate can be adjusted through the adjustable resistance of the valve. Otherwise, low resistance lines will be overfeed, as a result of this, high resistance lines will not be fed as required.
The differential pressure control valve is adjusted according to the pressure loss during hot water preparation at the heat station.
Plate Heat Exchanger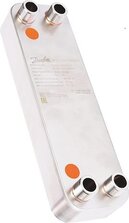 Heat exchangers are devices in which heat energy is transmitted from one mass to another.
Plate heat exchangers contain plates placed to create different passageways (channels) for fluids.
Heat transfer takes place through the plate walls. The plates contain multiple channels connected in series and are connected to each other by placing them in a frame.
Rectangular plates have an opening or door in each corner. When the plates are assembled, they form a sealed structure, revealing a heat transfer medium through which the fluid will pass through the doors.
Circulation Pumps

There are circulation pumps in heat stations in underfloor heating projects.
It has the task of delivering the water coming from the boiler through the heat station to the extreme points of the in-house heating installation.
Brass Materials and Fittings
Filters and Strainers
Zone Valves
Flowmeters and Manometers
Closed Expansion Tanks
Flex Hoses
You Can Find All Heat Stations Equipment For Your HUI's.
---
M-Technic HIU Maintenance and HIU Spare Parts Catalog